Today, the Centre for Civic Education (CCE) signed contracts with civil society organisations (CSO) which were awarded funds via third call for support, within the programme Let's put corruption into museum!
Hence, the projects of five organizations are supported:
(Anti) CORRUPTION action in Montenegro, implemented by the Politikon Network in partnership with the Open Dialogue Network and the Institute for Business and Financial Literacy;
'Caring man' – a phenomenon of socially acceptable corruption as part of our mentality, implemented by the Center for Multimedia Production (CEZAM);
Media against corruption, implemented by the Media Association of South-East Europe (MASEE).
At the occasion of signing contracts, Jovana Marovic, Executive Director of Politikon Network, stated that 'this support is valuable to make corruption cases more visible through partnership with the CCE, and also to improve anti-corruption mechanisms at the local level. The most important is to encourage society to become more involved in the implementation of anti-corruption mechanisms. '
This is the third CCE call within this programme and these three organizations were supported in the total amount of 17,019.66 EUR. Total planned amount of the support within this programme was 80,000 EUR, and through the previous two calls was allocated an amount of EUR 65, 645.63, which means that more projects were supported than initially planned, due to the quality of the submitted proposals.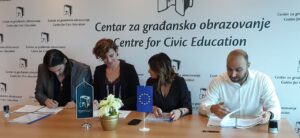 The programme Let's put corruption in the museum! aims to contribute to reduction of corruption at the local level and increase of involvement of citizens of Montenegro in the fight against corruption at the local level. It is envisaged to influence the increase of transparency of work of Montenegrin municipalities, via direct cooperation of CSOs, state institutions and citizens, as well as the implementation of anti-corruption policies. The programme Let's put corruption in the museum! is conducted by the CCE in partnership with NGO Centre for Monitoring and Research (CeMI), NGO Bonum from Pljevlja, NGO UL-Info from Ulcinj and NGO Za Druga from Petrovac, with the Ministry of Public Administration and Agency for Prevention of Corruption as associates, and with the support of EU Delegation to Montenegro and co-financing of Ministry of Public Administration of Government of Montenegro.
Vasilije RADULOVIC, Project Assistant